As we start FY23, we are pleased to welcome customers back to experience unforgettable journeys.
At thl we recognise that business, society and the environment are part of an interconnected system and depend on one another to thrive. The scale and pace of change needed requires a holistic, science-based approach, focused on system value.
For us, this is provided by the Future-Fit Business Benchmark. Over the last three years we have focused on embedding future-fit as both a mindset and methodology, guiding our decision-making and activities from global strategy to country work programmes and Branch Sustainability Action Plans for all branches.
Our commitment to becoming a future-fit business acknowledges the significant and rapid change needed to tackle the complex issues the world is facing, including the climate crisis. It is a way of thinking, a pathway and clear destination to aim for contributes to the aspiration of a socially just, economically inclusive, and environmentally restorative society.
In our last Integrated Annual Report we shared our prioritised goals which focus on tackling our highest impacts and introduced a new global sustainability work programme. We have made significant progress, through a pilot-and-scale model, to integrate these workstreams at a global, country and branch level.
In our inaugural TCFD reporting on climate risks and opportunities, we've set our first science-aligned target of 50.4% reduction in greenhouse gas emissions by 2032 from a restated FY20 baseline. In other words, our Carbon Challenge is to halve our pre-COVID-19 carbon footprint in a decade.
---
Check out our new FY22 Integrated Annual Report for more information, and see the 'Our responsibility journey' section for more information on progress against our 23 future-fit sustainability goals and our Climate & Carbon Strategy.
---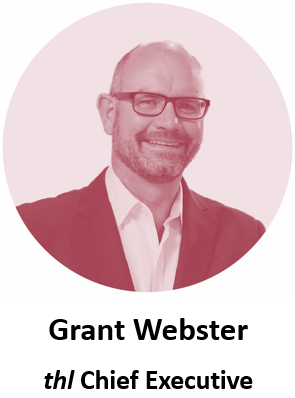 "We remain committed to a future-fit mindset and methodology. We believe this will support thl's long-term sustainability and resilience in the face of future disruption."
---